The Irish Grassland Association Beef Summer Tour 2014
sponsored by Herd Plus and IFAC
YOU MUST REGISTER FOR THIS EVENT ONLINE!
REGISTRATION AT TOM MURPHYS FARM 9AM SHARP. SIGNPOSTED FROM CAROLLS CROSS 
ON N25 DUNGARVAN/WATERFORD ROAD AND FROM PORTLAW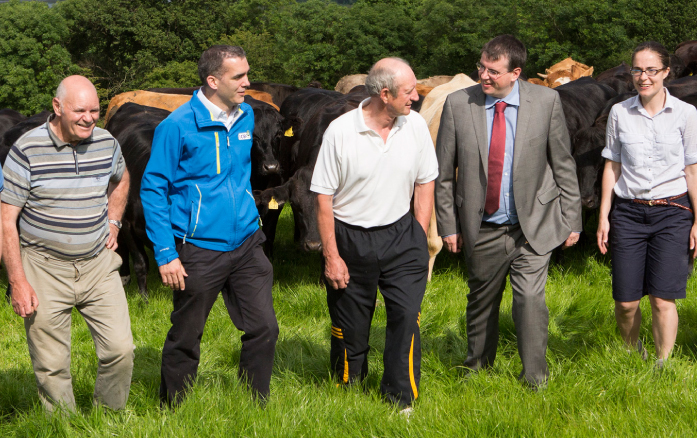 Jame Grace host farmer, Pat Donnellan Herd Plus, Thomas Murphy host farmer, Philip O'Connor IFAC and Karen Dukelow IGA
The Irish Grassland Association (IGA) Beef Summer Tour 2014 is titled "Making Suckling Work for You – The right cow on the right grass" and will take place on Tuesday 29th of July. The event has kindly been sponsored by IFAC and Herdplus. We will visit two profitable beef farms, Tom and Bridget Murphy, Ballycahane, Portlaw, Co. Waterford and James and Mary Grace, Ballincur Mooncoin, Co. Kilkenny. Both farms from strong hurling counties and both farms delivering a healthy profit from suckling! The tour will provide a great opportunity to discover the factors underpinning their profitability.
Delegates who register and prepay for their tickets before SATURDAY 26th July
with get their tickets HALF PRICE! Please click here to book a place.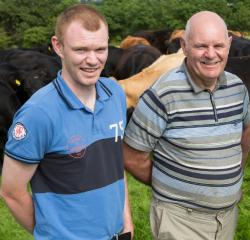 Tom and Bridget Murphy
Tom and Bridget farm 92 ha in three blocks. The tour will visit the block in Mountbolton. They run a 150 cow-suckler herd with all offspring finished to beef. The herd is 50% autumn and 50% spring calving. The heifers are finished at 18-20 months (380kg) and the bulls are finished at 16-18 months (420kg).
Tom has been a member of the Drumlohan Grass Group. This has brought a wealth of experience to Tom's farming system, so much so that he often throws a hand in on grassland management on his brother's dairy farm! His experience is that grassland management on the cattle side is more challenging as more grazing groups means that grass surpluses can be more difficult to spot. He walks his farm weekly to ensure that surpluses are taken out as bales. Tom is always tweaking his grassland management and has recently improved flexibility of his grazing management by fitting extra water troughs in his paddocks. He also plans to put in additional permanent fencing. It will be very interesting to hear on the day how he has strived to maximise lieveweight gain from grass.
Tom is always looking for ways to improve his farm profitability and has completed the profit monitor for a number of years. One area that was picked up on was the need to improve the quality and liveweight gain of his stock. He has improved the quality of his stock bulls to do this. However, he would like to improve the milk yield of his cows. To do this, he has purchased Limousin first cross cows from the dairy herd. Is this the best method to target milk improvement tin cows? Experts from ICBF will be on hand on the day to go through different replacement heifer strategies and how the new Replacement Index can be used to produce replacements.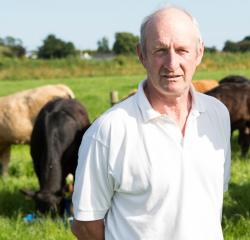 James & Mary Grace
James & Mary farm a short distance away in Mooncoin. They run a 55 cow autumn calving herd. The herd consists of first cross Limousin from Fr. Cows. Limousin & Parthenaise bulls run with the herd. Calving in August to October with stock sold as stores the following year. Some heifers are brought through to finish. James also purchases 30 dairy calves which are brought through to beef.
Currently the total grazing area runs to 53.2Ha split into 4 blocks. The Objective of this farm is to maximise profit through milk and grass. This is achieved through measuring grass by using Pasture Base and breeding using ICBF. Herdplus provides valuable farm management data on cow performance. This helps the farm identify areas for improvement; Cows have an average maternal index of €142 and terminal index of €76.
In order to achieve maximum weight gain from grass, walking the farm weekly to estimate days ahead and produce high quality leafy grass that is highly digestible, high in energy and low in stem. A rotational grazing system is employed to provide a constant supply of grass to grazing animals.
James has also worked hard to maximise grass growth on his farm by taking soil samples and making an easy to follow fertiliser plan to provide the soil with the nutrients it requires to grow grass. This farm visit provides great opportunity to view & discuss a farm maximising performance from grass.
There will be experts on hand on the day from Teagasc and ICBF to discuss breeding and profit on suckling farms so that you can identify key areas in your farming system that can be improved.
We would like to take this opportunity to thank our sponsors Herdplus and IFAC.
Please click here to book a place. Admission to this event will be by registration only. Delegates who register and prepay for their tickets before the Saturday 26th July with get their tickets HALF PRICE. These half price tickets cost only €20 for all IGA members and €40 for non IGA members! Registration fee includes refreshments on arrival, packed Lunch, conference proceedings, bus transfers between farms plus one year's membership FREE to the Irish Grassland Association for all new d/d memberships. Registration at Tom Murphys at 9am sharp.
This is a BTAP approved event and this event has sold out three weeks early in previous years.
So, if you are thinking of attending, then book today and don't miss out on these excellent offers.