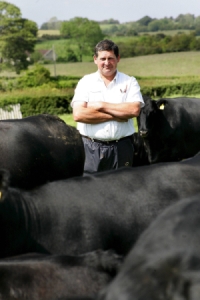 "Small cows make BIG profit in Co Down".
The ideal type of cow for suckler beef production in Ireland is just one of the questions that will be debated at the forthcoming conference and farm walk, being hosted by the Irish Grassland Association, Ulster Grassland Society and Irish Farmers Journal, in Downpatrick, County Down on Tuesday 19 July 2011.
The event will include a morning mini conference at the La Mon House Hotel (registration 9.30am), Belfast, where speakers will include Dr Andrew Cromie (ICBF), Dr Francis Lively (AFBI) and Kieran Mailey (CAFRE & AgriProfit Northern Ireland Suckler Beef Programme) and an afternoon visit to the farm of Paul Turley, Downpatrick. Paul was recently profiled in the Irish Farmers Journal, where the article entitled "small cows make big profit in County Down" has generated much interest amongst beef farmers. Other themes being picked up on the day will include breeding targets for profitable suckler beef production, improving labour efficiency on the farm and grassland management to maximize gross margin per hectare.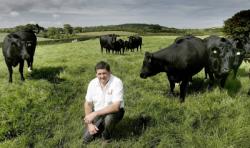 Justin McCarthy Irish Farmers Journal, Paul Turley host farmer, Gerard McBrien Regional RDO Irish Grassland Association and Norberry Royle Ulster Grassland Society President.
Speaking at the launch of the conference, Gerard McBrien (regional development officer for the Irish Grassland Association) commented that "the conference and farm walk are in response to a growing concern amongst Irish beef farmers regarding the type of cow that dominates our suckler beef systems. There has been some excellent work in the North on the issue of cow type on both the Greenmount Hill farm and also on commercial beef farms, with the latter being as a result of strong price contracts between retailers, processors and producers. These contracts ensure that farmers such as Paul Turley are absolutely focused on achieving compact spring calving (average calving interval for the 120 cow herd is 364 days) with all steers being slaughtered of grass at ~17 months and an average carcass weight of some 300 kg. The event will be a unique opportunity for IGA members and guests to see at first hand a top class suckler beef operation and the type of cow that is prevalent in these systems".
Commenting on the event, Phillip Donohue, president of the IGA, acknowledged the unique nature of the event. "We are delighted to be co-hosting this event with the Ulster Grassland Society and the Irish Farmers Journal. We have developed a close working relationship with both organizations over many years and I have no doubt that we will have an excellent event in Co. Down on 19 July".
RESERVATION SECTION
EVENT TICKETS: – CLICK HERE.
Best rates are available for registrations made before JULY 13TH. Any registrations after this date will incur surcharges.
You can also contact Gerard Mc'Brien on 087 7990179 or Maura Callery on 087 9626483.
Prepaid discounted tickets for the day are:
€35 for members
€70 for non-members, Non members rate of €70 includes complimentary membership of the association for one year (for all new dd memberships).
BUS TICKETS:
In addition, the IGA will be organizing buses, for those interested in traveling by bus, with buses leaving the evening before the event and returning the evening off the event. You can book bus tickets directly with Gerard McBrien 087 7990179 or gerard@irishgrassland.com
B&B DISCOUNTED RATES FROM £32.50
As part of the overnight deal, the IGA have also secured an excellent overnight B&B rate with the La Mon Hotel at a cost of £55 single room or £32.50pps for a Twin or double room. Reservations can be made directly with the hotel by emailing Email: reservations@lamon.co.uk before JULY 12TH
quoting "IGA" or call 04890448631.
Members should note that interest in this event will be high and they are strongly advised to book early, places will be restricted