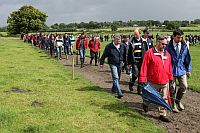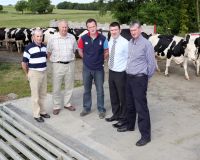 Delegates who attended the the Irish Grassland Association Dairy Summer Tour 2009, sponsored by ACC Bank, visited the farm of Denis and Eddie O Donnell, in Golden, and the Rockwell farm, Tipperary which is owned by the Holy Ghost Fathers. Both farms have had major transition in the past few years, but were consistent in maintaining the focus on simple, efficient, grass based milk production.
The theme for the morning session on the O Donnell farm was "Growing your business".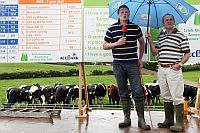 Eddie address the crowd, supported by his father Denis
Eddie O Donnell farms in partnership with his father Denis about one mile outside the village of Golden in Co. Tipperary. With a milking platform on the home farm of just 23.45ha, this dynamic duo saw no obstacles only solutions! In 2005 an ambitious five year expansion plan was drafted. To succeed thinking outside the box was necessary, and so they leased a 44.46ha dairy farm six miles away. Today they carry 156 cows and replacements in a compact spring calving system. Production per cow is an excellent 434 kg/ms and is produced primarily from a grass based system that is highly focused and expertly executed, which in turn delivers super financial performance. This father and son team are not finished yet, as they plan to expand even further, while at the same time targeting costs reductions of 2.6cent/litre.
Click here to view information boards presented on the O'Donnell farm
Delegates returned to Rockwell College for lunch and in the afternoon visited the Rockwell farm where the question "Can scale deliver" was asked.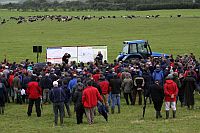 Jim Treacy, Farm manager at Rockwell address the crowd.

Rockwell College farm was founded by the Holy Ghost Fathers in 1864, but they currently have no active involvement in the running of the farm which is left in the hands of far manager Jim Tracey. Located in the heart of the Golden Vale 162 ha of this farm is dedicated to dairying and replacements. The remaining lands (163ha) are under tillage and both these are run beside a pig enterprise. Even though an agricultural college was located here until recent years the focus has always been and still remains, to run this 360 cow herd very much as a commercial unit, with 150 cows per labour unit. Ultimately grass drives the system and the herd starts calving on 20th January in order to utilise as much as possible of the 15ton of grass dm/ha that is grown yearly. Production per hectare is recognised as a truer measure of performance, and consequently carry a stocking rate of 2.74 cows/ha producing 363 kg/ms per cow. Jim is planning to convert more of the tillage area into dairying, and expects to milking 500 cows in the medium term.
Click here to view the information boards presented on the Rockwell farm
Proceedings published for the day can be obtained by contacting the office