Dairy Summer Tour 2014. Strategies for successful expansion
Sponsored by AIB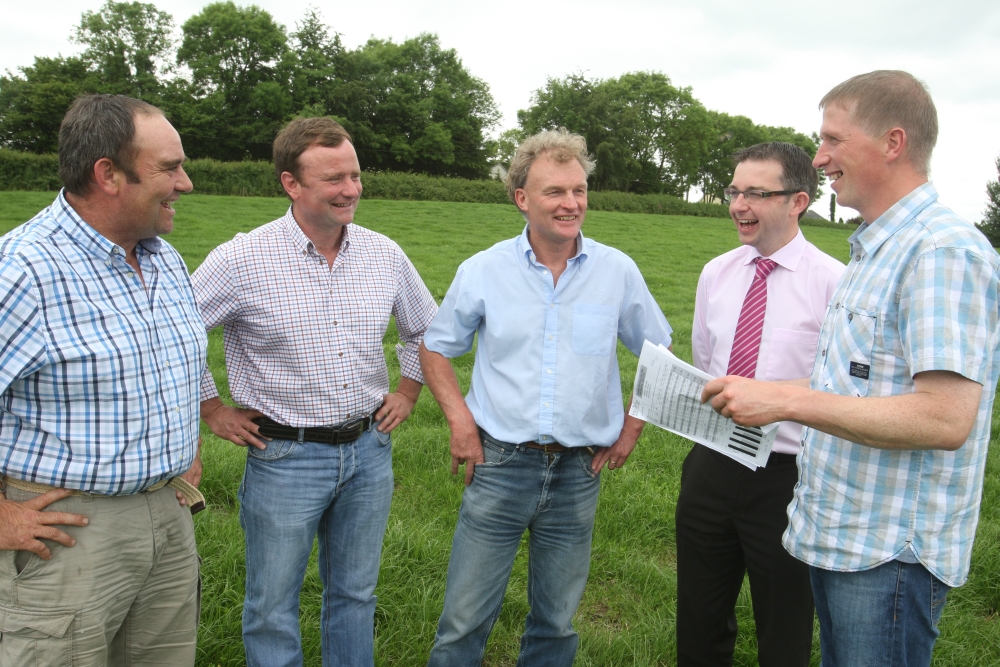 Paul and David Hyland host farmers, David Kerr host farmer and Eamon O'Reilly AIB event sponsor with Bernard Ging IGA
The Irish Grassland Association (IGA) Dairy Summer Tour kindly sponsored by AIB takes place on Tuesday 12th August this year and will be held in Laois on the farms of David and Paul Hyland in Ballacolla and David Kerr in Ross, Portlaoise.
The theme of this year's tour is strategies for successful expansion. Both our host farms in this year's Dairy Summer Tour have achieved considerable growth in cow numbers in the last ten years – the Hylands have gone from 120 to 360 cows and David Kerr has gone from 40 to 140 cows.  Different strategies have been used on each farm to expand – land leasing, land purchase, contract rearing to increase cow numbers on the milking block, a second milking unit and a milk production partnership. How the farmers made these strategies work will be a major focus of the tour.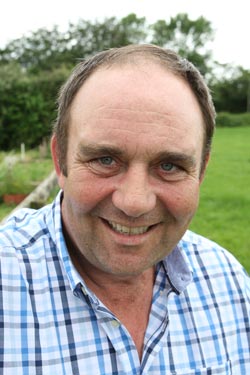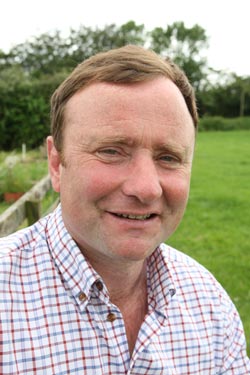 Paul and David Hyland
Paul and David Hyland farm in partnership with their mother Lucy outside the village of Clough, near Ballacolla in County Laois.  The pair commenced farming in 1996 taking on the 130 British Friesian cows then milked by their late father Frank all year round on a milking platform of 28 ha.  Expansion to the present 360 strong dairy herd has been achieved since then through various steps: leasing land adjacent to the out farm and establishing a second milking unit there; land purchase in 2002; a milk production partnership with a Co. Kilkenny dairy farmer in 2010; and more land purchase in 2013 adjacent to the second milking unit.  The Kilkenny farm comprises approximately 73 ha of excellent land used for rearing replacement heifers for the home farms with surplus for sale.  Since establishing the second milking unit the herd of cows have been moved from one block to the other depending on grass availability. Next year the plan is to split the herd in two and stock each milking unit at 3.5 cows/ha or 400 cows in total.
Production averaged 430 kg milk solids per cow last year (1,370 kg milk solids per ha) from a predominantly crossbred herd at a whole farm stocking rate of 2.8 LU/ha (3.2 LU/ha on the milking platforms).  Herd EBI averages €147 (€47 milk/ €76 fertility). Currently the Hylands continue in winter milk feeling that it has served them well as a tool to retain cows in the herd while expanding.
Having reseeded practically all of the milking platforms over the past 10 years, an average of 14 t DM/ha grew there last year, despite two droughts with approximately 900 kg meal fed per cow.
David and Yvonne Kerr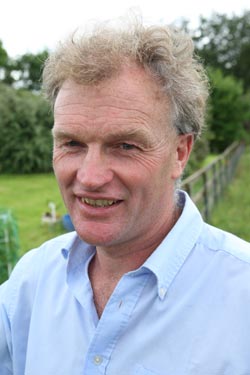 Delegates will also visit the farm of David and Yvonne Kerr who farm 64ha (158 acres) in Ross, just outside of Portlaoise in Co Laois. David took over the farm from his father George in 1996 at which point the then128 acre farm had 40 dairy cows along with beef, sheep and tillage enterprises. David maintained this enterprise mix for a number of years and focused on low cost efficient farming. With the revision of milk quota rules in 2006 and after being awarded a Nuffield scholarship on dairy expansion David decided to focus solely on his dairy enterprise. By 2010 he had expanded to 107 cows and the following year he purchased 30 acres which bordered the milking platform. There are 140 cows being milked on the farm this year and the plan is to milk 160 cows next year (2.5 cows/ha).
The Kerr farm is an excellent example of maintaining labour efficiency while increasing cow numbers. A student helps out during the busy spring period, maiden heifers are contract reared (all heifers will be contract reared next year) and much of the machinery work e.g. fertilizer spreading is contracted out. A very labour efficient milking parlour (22 units with homemade backing gate and good cow flow) allows David to milk 140 cows per hour. Winter housing to support extra cow numbers is in the form of 140 cow kennels which cost approximately €400/ kennel to construct (excluding any slurry storage).
David has been measuring grass for over 18 years and grew 14tDM/ha on the grazing platform in 2013. Approximately a third of the 160 acre grazing platform is heavy and some of this ground grew as little as 5tDM/ha in 2012 due to the wet weather.
The Kerr herd is one third Jersey crossbred and has an EBI of €195 (€53 milk/ €104 fertility). Fertility performance on the farm is excellent. Empty rates for the last number of years have consistently run under 7% after 13 weeks breeding with no bulls used. Six week calving rate is 78%.  Cows produced 409kgMS/cow last year from 600kg of meal (4,850 litres at 3.63% protein and 4.50% fat).
AIB are now in their third year sponsoring the Irish Grassland Association Dairy Summer Tour. Commenting on the event, Eamonn O'Reilly, Agri Advisor, AIB said:"We are delighted to continue our association with the Irish Grassland Association and commit our support to the Dairy Summer Tour. This year's tour will provide an insight into the expansion experiences of two very progressive dairy operations, who have adopted different expansion strategies. The event provides a further opportunity to examine the fundamentals underpinning successful expansion, the motivations behind individual strategies employed, the challenges encountered and lessons learned along the way".
The Tour promises to be an excellent event for any current or potential dairy farmer regardless of current herd size or expansion plans. Registration will take place in the Portlaois Rugby Club, Co.Laois (signposted from junction 17 on the M7) from 8.30am. Breakfast rolls and tea/coffee will be provided for those who arrive on time. By registering before Friday the 25th July, you can avail of our pre-paid discounts of 25%. Discount tickets cost €30 for Irish Grassland Association members and €60 for non-members. To avail of this offer post the booking form on the brochure enclosed and your cheque to: Discounted DAIRY Registrations, IGA, Cookstown,Kells, Co. Meath. Admission is by registration only and early booking is strongly encouraged as our Dairy Conference in January sold out. So, if you are thinking of attending then book today and don't miss out on this excellent offer.
To make an booking please click here