"Using the latest technologies to increase farm profits"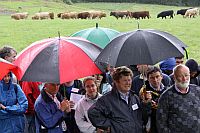 The Irish Grassland Association held their annual Beef Farm Walk and Conference on Tuesday 30th June. Delegates visited the award winning farm of John Kennedy near Nenagh Co. Tipperary in the morning and the Conference was held in the afternoon in the Abbey Court Hotel in Nenagh.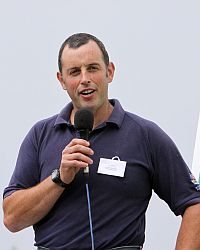 Host farmer John Kennedy address the crowd
The host farmer John Kennedy won the National Breeding Award in the Bord Bia Quality Beef Producer of the Year Awards in 2008. John runs a 100 cow suckler herd on a 78ha farm, all of which are bred to top AI beef bulls. Replacement heifers are sourced from his own herd and all other progeny are finished on farm. John has reseeded 70% of his farm in the last 10 years and through grass measuring and budgeting he aims to maximize animal performance from grass.
Click here to view information boards presented on the farm.
Click here to view information handed out on farm.
The afternoon session of this years conference focused on using the latest technologies to increase beef farm profit. Speakers at the conference included: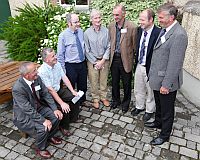 Dr. Ross Evans, ICBF who will show the differences that exist within an actual suckler herd between high and low genetic merit cows and how farmers can identify these cows within their own herd to increase their profit.
Michael Barry, Cork Drystock Farmer who will go through what is involved in the contract rearing of dairy replacement heifers for a number of different dairy farmers.
John Donworth, Teagasc Dairy Specialist who will outline the potential costs and returns from contract rearing arrangements.
Dr. Mark McGee, Teagasc Grangewho will show what the latest thinking on feed efficiency in the suckler cow can offer to improve suckler cow profit margins.
David Kirwan, Waterford Suckler Farmer and demo farm in the Teagasc-Farmers Journal BETTER Farm Programme who will outline how he has used grass budgeting for a number of years to reduce his costs and increase his output.