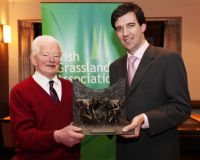 The Irish Grassland Association Lifetime Merit Award was commissioned by the association in 2009 to acknowledge the unique life contribution of an individual to the understanding and application of grassland husbandry and technology.
This prestigious award will always be a public endorsement on behalf of our Association and its members, to the great and important contribution made by the recipient to our industry and lives.
In January 2009 the council of the association announced this years recipient of the inaugural trophy was Paddy O'Keeffe. Surrounded by close professional acquaintances and friends, Paddy O'Keeffe graciously accepted the award from the President of the IGA Pearse Kelly.
On behalf of all our members we congratulate Paddy on this award and look forward to benefiting from his influences in the future.
If you would like to nominate an individual to recieve this prestigious award in 2010 please contact the office providing the name of the individual and a short justification as why their nomination is appropriate. Closing date for nominations is the 31st October 2009.