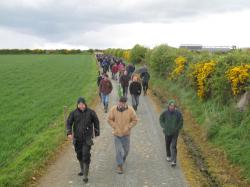 Over 100 farmers attended this year's Irish Grassland Association (IGA) sheep farm walk on Tuesday 19th of May on the farm of Ned Morrissey, Dunhill, Co Waterford. Ned runs a mid-season lambing flock of 370 ewes on 30.3ha (75 acres) in Dunhill, Waterford. The sheep enterprise is run alongside a significant tillage enterprise and focuses on finding the best balance between maximising output and reducing labour input. The farming system has witnessed significant changes in recent years with a switch to wintering ewes on grazing beet in-situ and outdoor lambing greatly cutting workload and costs. Grassland management is also excellent and combined with fodder beet provides the foundation to push stocking rate to the limit at 13 ewes/ha (5.26 ewes/acre).
The three main areas of interest on the day were:

Grassland
Grass growth is maximised and optimum quality maintained by operating a rotational grazing system. Ned explained that the system that works best for him is batching animals into three big groups of about 120 ewes and their lambs. Each group has access to four to five, five acre paddocks which are also split temporarily to better manage grass quality in periods of peak growth. The dry hoggets are also split across the three groups and grazed with ewes and lambs to minimise the number of grazing groups and to ensure paddocks are grazed quickly reducing the incidence of grazing regrowths and offering fresh grass more frequently.
Out wintering on fodder beet
Fodder beet is grown in two grassland areas measuring 2.5 acres and is incorporated into a reseeding programme. The area where fodder beet is grown is combined with a 2.5-acre runback. The runback area acts as a sacrifice paddock for supplementing silage and feed/mineral buckets and is used for growing the crop the following year while the fodder beet area is reseeded and incorporated back into the grazing rotation. Each 2.5 acres provides sufficient fodder to strip graze a batch of 180 ewes (three breeding groups combined into two groups) from mid-November to the end of February. Ned explained the worst he can expect in a bad year is 30t/acre (fresh weight) with average yields of 35-40 ton fresh/acre regularly achieved.
Outdoor lambing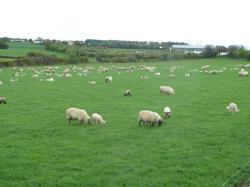 Twin bearing ewes are removed from the beet two to three weeks pre lambing and are given access to temporary grazing from a local dairy farmer. Access to fresh grass meets the increased protein demands in late pregnancy, ensuring ewes lamb with sufficient colostrum. This boosts condition and also helps colostrum yield and quality. On returning from temporary grazing, twin bearing ewes are set stocked in seven paddocks around the farmyard in groups of 25 to 35 ewes (about seven ewes per acre). Closing paddocks from late October onwards is critical to have sufficient grass to eliminate supplementary feeding pre-lambing. Single bearing ewes remain on the beet until a few days prior to lambing, receiving concentrate supplementation once twin bearing ewes are removed. This gets ewes accustomed to switching diets ahead of housing where the aim is to cross foster triplet lambs onto single bearing ewes. Triplet ewes are housed after scanning.
Two other aspects of the day which attracted keen interest were a presentation by Kevin Farrell, Longford sheep and beef farmer and an IGA committee member on the benefits of producer and purchasing groups and a presentation by Teagasc sheep specialist Frank Hynes on the use of faecal egg counts (FEC) and interpreting the STAP faecal test as an aid for worm control. Frank Hynes presentation is covered in an article on page xx  of this newsletter.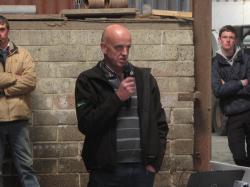 Kevin outlined the background to the Longford Lamb Producer Group, set up in the early 1990's by a small group of local farmers with a common goal – selling lambs within a group to achieve a better price and also to find a more convenient means for members to market and trade their lambs. The group has grown to a steady membership of approximately 60 members. Kevin said that a significant factor determining what the group delivers is the commitment group members show stating you get back what you are willing to put in with a factory. Groups will have their share of ups and downs but when everyone knows clearly exactly what is required of them with written rules, it makes the group easier to run. From a quality perspective, lambs produced better meet market specifications which ultimately benefit the quality of lamb delivered to consumers. This has been helped to achieve within the group by holding information evenings focusing on marketing on lambs from selecting lambs for slaughter, optimum carcase weights, fat cover etc. A financial bonus which consistently rewards for quality is a major aspect in helping to entice members to produce to certain specifications. They have developed a strong working relationship between the group and the factory. There has to be benefits for both sides with members rewarded for delivering a quality product and factories guaranteed that they have a consistent high quality product to work with.
Kevin is also involved in purchasing group and feels that this group is possibly delivering the best benefit to him. The group is made up of sub-groups who have responsibility for different inputs or services. Like the lamb group, deals are negotiated that best meet the needs of all members. The group meets eight times annually with each group member required to attend at least four meetings and pay an annual membership fee. A yellow card system is employed whereby each member is sanctioned for not adhering to written rules the group agrees upon together. Kevin says that confidentiality is a key aspect of the purchasing group to allow input and service providers negotiate with confidence.
In his presentation conclusion, Kevin says that as well as the sharing of new ideas and relationship building with factories and farm suppliers, an aspect of the group that is often forgotten is that it provides a social setting for farmers to meet up. He said that to really maximise the benefits of the group, there should be a mixture of business and also a social setting that provides a platform to interact on an informal basis.
The Irish Grassland Association would like to sincerely thank Ned and his family for hosting the event, Kevin and Frank for their presentations and Teagasc Dungarvan, especially Neds advisor Paddy O'Brien for assistance in running this event.