The Irish Grassland Association (IGA) traveled to TIpperary this year to hold its annual Farm Walk and Conference which was kindly sponsored by Sheep Ireland Ltd. and Mullinahone Co-Op.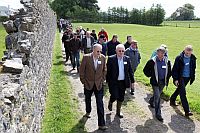 Delegates on the farm of John Renehan.
The morning farm walk was hosted by John Renehan, Johnstown, Co. Kilkenny . With a farm size of 56ha John manages a flock size of 210 ewes including pedigree stock of Texel and Belclare ewes, and 26 suckler cows. With a stocking rate of 1.93LU/ha and 1.78 lambs reared/ewe to ram, John places a lot of emphasis on good grassland management with a continual reseeding plan and incorproation of Typhon into the grassland area for finishing lambs.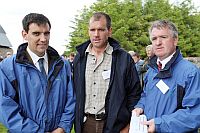 John Renehan with Pearse Kelly, President of the IGA and Teagasc Advisor Terry Carroll.
The morning event also focused on many of the new and emerging technologies that are set to revolutionise Irish sheep farming, over the next few years.
These included
The launch of the new Sheep Ireland genetic indexes. The new indexes are based on the same profit principles as the dairy EBI & beef €uro-Star systems and will be displayed for groups of rams and ram lambs on the Renehan farm
A practical demonstration of how electronic identification can help simplify day-to-day flock management, including the use of the "Pratley Auto-Drafter" for weight recording & splitting ewes/lambs and the use of handheld technology for recording events
An overview of how new DNA technology can be used to facilitate multiple sire mating, and improve the genetic merit of your flock
Click here to view information handed out on farm, including information presented on display boards
After lunch at the Horse and Jockey Hotel the afternoon speakers included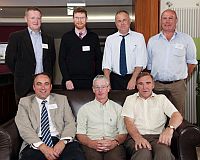 Crosby Cleland, Saintfield, Co. Down, current UK Sheep Farmer of the year, who outlined the type of ewe and ram he needs for a profitable future in sheep
Dr Peter Amer, AbacusBio Ltd, New Zealand, who outlined progress to date on the new Sheep Ireland initiative, including the launch of the new Sheep Ireland genetic indexes
Michael McHugh, Teagasc sheep specialist, who reviewed options for finishing lambs
Dr Michael O'Doherty,UCD Vet College, who discussed key sheep and flock health including the recent launch of the new Animal Health Ireland initiative
Andrew Kinsella, Wicklow sheep farmer and Farmers Journal columnist, who outlined the key changes that have resulted in increased profit from sheep on his farm