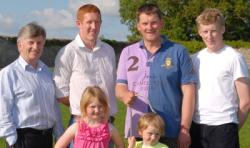 Breeding, grass and research implementation and dissemination showcased at IGA Sheep Conference & Farm Walk 2011
TO DOWNLOAD PROGRAMME – CLICK HERE
The IGA Sheep Conference and Farm Walk 2011 will be held in the Newpark Hotel, Kilkenny city followed by a farm walk on the farm of William Hutchinson, Chapelizod, Kells, County Kilkenny.
Tim Byrne

works for AbacusBio in New Zealand as a genetics consultant with a range of technology, agribusiness and breeder clients. He has a depth of knowledge of production systems in New Zealand and internationally, and has worked in a wide range of  areas including systems for the integration of leading-edge production and molecular genetics technologies, cost-benefit analysis of DNA-marker integration, electronic identification, and automated drafting systems. Tim specialises in providing advice on the development, implementation, and economic evaluation of breeding strategies. This includes development of multi-trait economic selection indexes for beef and dairy cattle, and sheep throughout New Zealand and internationally. He works closely with breeders in New Zealand advising on mate selection and allocation systems to maintain genetic diversity and maximise genetic gain. At the ICBF Tim worked on breeding programme design and implementation in the Irish industry, and also in the areas of communication and extension.
Andrew Moloney

(ex IGA council member) is a sheep and beef farmer in Edenderry county Offaly. Andrew runs a mixed enterprise of mid season lambing ewes and suckler cows bringing progeny to beef. Huge emphasis is placed on grassland management with the focus of achieving maximum weight gain and grass utilisation during the grazing season. Lambs are finished off grass with top quality grass silage and hay used during the winter period to minimise the total concentrates fed in the sheep system.
Research Workshop
The second session of the day will provide an opportunity for all interested farmers and stakeholders attending the conference to have an input into the future direction of sheep research in Ireland and its efficient transfer onto Irish sheep farms. Teagasc has recently recruited two new scientists to underpin their national sheep research programme, Noirin McHugh in sheep breeding and Philip Creighton in grassland management for sheep. The workshop will be chaired by former UCD sheep expert Dr. Frank Crosby and will provide a forum to discuss the priority areas of research and the research questions that need to be addressed and the most efficient mechanism for the transfer of that research on to farms.
Farm walk
This year's sheep farm walk is being hosted by William Hutchinson, Kells, Chapelizod. The farm has established sheep, beef and tillage enterprises but is continually adopting new technologies to help increase efficiency and drive performance.
There is a wide range of farming practices being implemented on the farm that will be of interest to all flock owners no matter what your flock size is. William runs mid-season lambing commercial, pedigree and yearling hogget flocks. Sheep are mixed-grazed with bulls to improve grassland management and take advantage of the boost in performance mixed grazing provides.
The commercial flock comprises approximately 320 mature Belclare and Suffolk cross ewes. All commercial ewes are lambed outdoors. Last year 25 Easycare ewes were purchased to investigate the merits of the breed and see if there is potential to further reduce labour with outdoor lambing. About 150 yearling ewe hoggets are ran as a separate flock up until weaning and lamb just after the main flock of ewes. These are also Belclare and Suffolk cross ewe lambs with Easycare cross yearling hoggets also now entering the system.
The pedigree flock includes three breeds; Suffolk, Texel and Ile de France. It is run separate for ease of management but according to William this is the only real difference to the commercial flocks. Pedigree ewes are not sponged and receive no preferential treatment, lambing down at the same time as the commercial flock. No creep is fed to lambs unless where ewes are rearing triplet lambs or individual problem cases arise such as ewes have one blind teat for example. Creep feeding arrangements are similar for the commercial flock. Pedigree rams are not fed excessively at any stage and are mostly sold as hogget rams at 1-1.5 years old.
The main emphasis with all sheep on the farm is to utilise grass to its full potential. The farm is split in two distinct blocks, the main block around the farmyard and an out-farm block a few miles away of 24.28ha (60 acre). Sheep are grazed in one of two scenarios. As mentioned above, mixed grazing with bulls is operated as much as possible or where this is not possible a paddock or rotational system of grazing is used. Ewes and lambs are grazed with bulls early in the spring when grass quality is at its highest. As the season progresses and lambs become more dependent on grass (about 9-10 weeks of age), they are forward creep grazed with bulls ahead of the ewes. This achieves maximum performance in both the lambs and the bulls. Ewes can then be forced to graze the sward tighter to 4-4.5cm promoting excellent quality grass re-growth.
Tyfon is also grown as an aid to finishing lambs. William explains that in a normal year, the soil type on the farm results in grass growth reducing significantly in July and August. At the same demand remains high from bulls and lambs. The Tyfon crop provides him with a large supply of dry matter forage that would not be possible from grass. Lambs are introduced onto the crop at 38-39kg and are finished in a three to four week period. Weight gain is in the region of 2kg per day with William commenting that it also lifts the grade and kill-out percentage of lambs. The crop is not used as a substitute to grassland management as grass makes up the sole diet for ewe lambs and lambs lesser than 38kg.
Since 2009, William is a participant of both the MALP and LambPlus sheep breed improvement programmes co-ordinated by Sheep Ireland. The MALP programme identifies rams with strong genetic links. These bloodlines are tested in commercial conditions to identify the best genetics available going forward. All sheep have been electronically tagged with records such as litter size, lambing difficulties, growth rates, maternal traits and much more collected by means of a handheld electronic reader. This information is transferred back through genetic evaluations increasing the accuracy of €uro-Star predictions on rams.
In addition to all of the above, figures will be available on all production data, financial performance of the three flocks, and performance from grass and Tyfon. William is also a member of a very active discussion group and the merits of such in collecting and disseminating information will also be discussed on the day.
We would like to thank our event sponsors Mulinahone Co-Op and Sheep Ireland