The Irish Grassland Association Sheep Farm Walks 2014
sponsored by
Sheep Ireland and Mullinahone Co-Op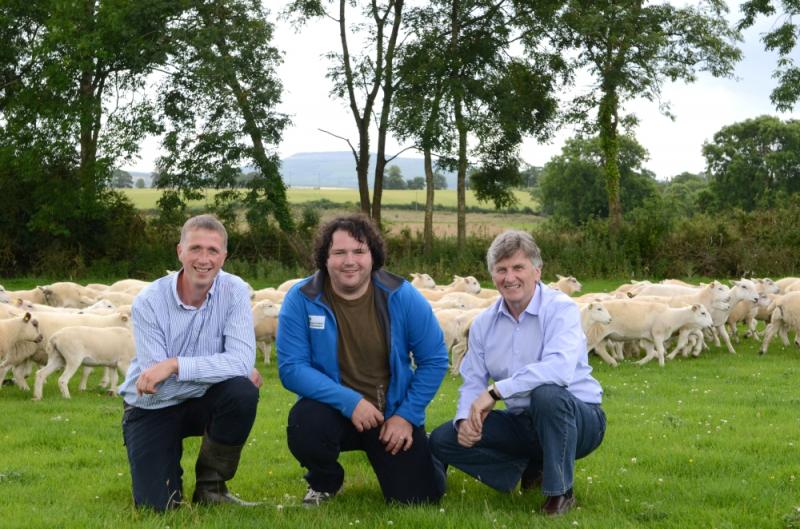 Bernard Ging IGA with joint event sponsors Stephen Potterton Sheep Ireland and Liam Egan Mullinahone Co-Op
The Irish Grassland Association annual sheep event is changing format for 2014. The traditional one day conference and farm walk will be replaced by two afternoon farm walks on July 31st on the farm of Philip Higgins, Screen, Co Sligo and August 7th on the farm of Anthony McShane, Carlingford, Co Louth. Sponsored by Mullinahone Co-op and Sheep Ireland, both events will take place from 3-5pm. The events will focus on breeding quality replacements, grassland management and soil fertility. Admission is free and there is no need to register.Both farms will be signposted on the day.
Philip Higgins,Screen, Co. Sligo. 31st July, 3pm -5pm.
From Ballina follow signs for Screen. Turn right at sign for Sligo gokarting. From Ballysadare, take first left after church in Screen. Farm will be signposted.
Philip farms 86 hectares carrying 200 ewes and 80 hoggets along with a suckler herd of 45 spring calving suckler cows. The mid season flock of ewes consistently weans 1.8 lambs reared/ewe to the ram while ewe lambs regularly wean 1.4 lambs reared/ewe to the ram. The flock is housed at the beginning of December and are fed good quality silage until 6 weeks pre lambing when they are separated into singles twins and triplets and fed accordingly up to lambing. Meal feeding is continued post lambing until there is adequate grass available. Flock prolifacy is maintained by purchasing replacement ewe lambs at the Mayo mule and greyface sale annually and are mated to Suffolk and texel rams in the autumn. The biggest daughters are in turn kept as replacements and are crossed with a different breed sire enhancing hybrid vigour. Drafting of lambs begins in early June, with all lambs marketed through the Sligo Leitrim Producer group and achieving an average carcase weight of 20kg. Silage quality is achieved by grazing pre closing and cutting the crop at 6-7 weeks producing high quality leafy silage that helps control winter feed bills. Quality leafy swards are achieved by grazing paddocks out well, topping and taking out paddocks for round bales where necessary. Philip is currently increasing the number of paddocks to improve grass utilisation and quality and intends to increase the flock to 350 sheep to the ram this autumn.
Anthony Mc Shane, Carlingford, Co. Louth. 7th August, 3pm – 5pm.
Exit 18 off M1, follow signs for Carlingford. Farm will be signposted.
Anthony farms 54ha at Carlingford Co Louth. The 500 ewe midseason lambing flock are made up of Lowland x Blackface Mountain and pure Blackface mountain ewes. Lambing takes place from late March with all ewes usually lambed outdoors. There is a strong focus on producing quality homebred replacements on this farm with Blue Leicester rams selected on maternal traits to cross to the blackface ewes. The biggest daughters of doubles are selected pre weaning for replacements. Also Texel cross Mule lambs are retained and these are mated with Suffolk rams and the Lamb output per ewe consistently averages an impressive 1.6 lambs weaned/ewe from the lowland ewes. Lambs are marketed through the Monaghan lamb producer group. Grassland management is a top priority with strong emphasis placed on utilising as much grass within the diet of the finishing lamb as possible. A paddock system, regular soil fertility testing and a planned reseeding programme help.
  

This is an STAP approved event. Admission is FREE!
No registration required. 

For more information call John Noonan on (087) 2789936.