Irish Grassland Association Student Conference Review
The Irish Grassland Association (IGA) held its annual student conference on two farms one sheep and one dairy. This event was kindly sponsored by the FBD Trust.
Previous student events have included visits to:
James and Sinéad Walsh's dairy farm in Carrick-on-Suir in 2010 

John Kelly's sheep BETTER farm in Baltinglass and Brendan Byrne's dairy farm inGrangecon in 2011 

CathalCrean's beef BETTER farm and Kevin and Richard Murphy's dairy farm in 2012 

Heinz Eggert's, beef BETTER farm in Sallins and Laurence and Lorretta Martin's dairy farm in  Carbury in 2013 

Owen Brodie's dairy farm, Virginia, Co. Cavan and Tom Halpin's beef BETTER farm inCarlanstown, Co. Meath last year.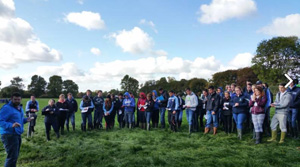 2015 Sheep Farm: Brian Nicholson, Johnstown, Co Kilkenny.
The students received a rundown on the farm from Brian and his Teagasc adviser, Terry Carroll. The adviser highlighted the importance of reseeding and told students that a new reseed and a 30-year-old permanent pasture are two completely different crops. The new reseed will grow vigorously earlier in the year and will deliver better animal production. Meanwhile, an older permanent pasture will not grow productively until early summer. He added that reseeding is similar to buying land, only cheaper! Carroll reminded those present that grass farmers have many similarities. The one thing that differentiates them from each other is the type of protein they sell – meat or milk.
Management skills drive farm profitability with the key areas on Brian's farm being:
Stocking rate
Prolificacy
Grassland management
Despite targeting prolificacy, Brian would prefer not to see triplets. He aims to have 1.8 lambs/ewe to 2 lambs/ewe. "Triplets create work and higher mortality," said Brian. "I aim for optimum production." Brian really got the students' attention when he said he estimated his average working week on the farm to be 35 hours. He and his family take one holiday every year. Brian employs one part-time labour unit three days a week. During lambing and when the farm is particularly busy, an extra labour unit is employed. "For the duration of lambing, there is always someone present in the yard," said Brian. "We have three eight-hour shifts here. When you're on, you're on and when you're off, you're off." His advice to prospective young farmers was to give themselves peace of mind by establishing their farms well. He focused on grass, housing facilities and stock – in that order.
When questioned on whether he should increase ewe numbers or take on extra heifers to contract-rear, he said that he would weigh up his options after this year. "Your time is more crucial, there is no point running around like a busy fool."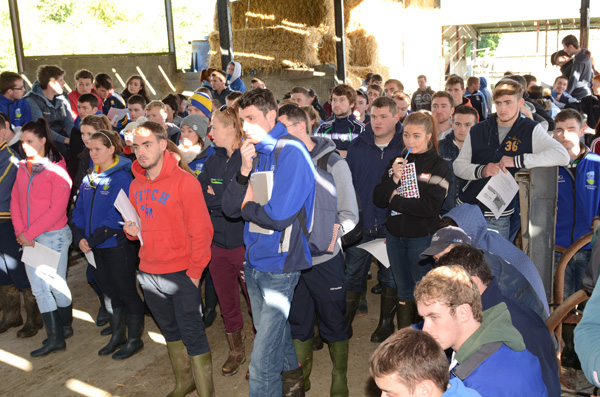 2015 Dairy Farm: Pat and Padraig Walshe, Durrow, Co Laois
Pat has been home on the farm just over two years now having completed an Agricultural Science degree in UCD. Padraig gave the background on how the farm was built up and the challenges it faces. "Stagnation in farming is going backwards, as a business can't stand still," said Padraig, "There are high land rental prices in the area and our farm is surrounded by a main road, forestry and Durrow town.
To grow their farm from their limited land block, they have gone into partnership with another farmer. Pat is focusing on keeping the farm simple and does this by growing as much grass as possible on the milking platform, which is currently stocked at 3.4 cows/ha. "It's not a simple matter of just increasing numbers without looking at all factors," said Pat. "More cows don't always make more profit." The Walshs place great value on discussion groups. Padraig and Pat are in two discussion groups each. Pat advised the students to "farm your own place as best as you can and put yourself in a position to avail of any opportunities that may arise."
We would like to thank our sponsors