The Irish Grassland Association Dairy Summer Tour
Producing milk on leased land
Breakfast for all delegates who register at 8am sharp at Gowran Park Racecourse. Booking essential.
(NO PARKING PERMITTED ON EITHER FARM. BUS TRANSFERS ONLY!)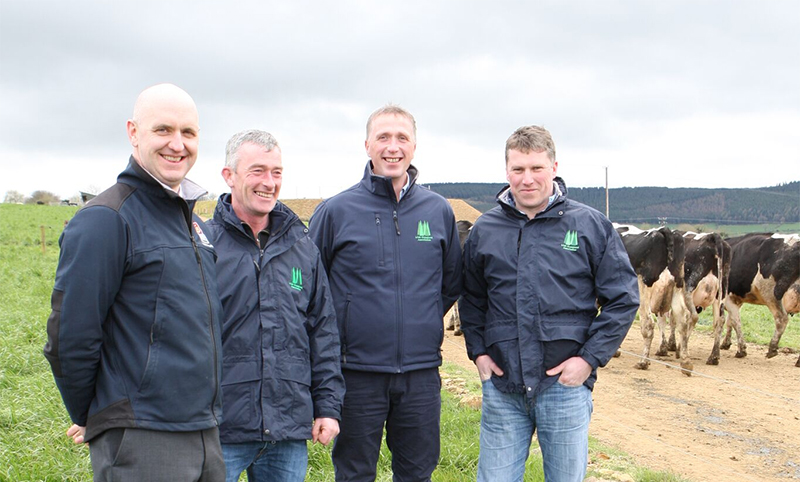 Patrick O'Meara AIB event sponsor, Cathal Moran host Farmer, Bernard Ging President Irish Grassland Association and Jamie Kealy host farmer 
The Irish Grassland Association Dairy Summer Tour focuses on milk production on leased land when it visits two grass based dairy farms in Kilkenny and Carlow.  The event, sponsored by AIB Bank, takes place on Tuesday July 25th at 8am sharp in the Gowran Park racecourse. The major focus of this year's event will be on producing milk on a part leased or fully leased milking platform.  Maximising the use of grazed grass in the cows' diet will feature prominently on both farms.
Speaking at the launch of the event, George Ramsbottom chairman of the tour said, 'Since milk quota removal, commercially focused dairy farms have increased stocking rate as a means of increasing milk output.  One third of Profit Monitor dairy farms are stocked at greater than 3 cows per hectare on the milking platform.  Nationally one third of dairy farms lease an average of 30% of the land they farm.  With this in mind, the Irish Grasslands Association invited two milk producers farming on partly or fully leased milking platforms to host this year's Dairy Summer Tour'.
Cathal and Grainne Moran farm at Curraghlane, Skeaghvasteen, Co. Kilkenny.  Cathal farms 144 ha of which 57 ha is owned.  The milking platform comprises 120 ha this year and includes land leased long term from three different farm owners.  The milking platform is composed of a mixture of free draining Clonroche shales and grey brown earths.  This year's overall stocking rate will be 2.5 LU/ha with the 250 strong dairy herd stocked at 2.5 cows/ha on the milking platform.  The farm grew an average of 14.6 tonnes dry matter per hectare in 2016.  Over the past 4 years Cathal has laid or upgraded 2.1 km of roadways, constructed a 30 unit milking parlour, reseeded 50 ha of the milking platform and built 345 topless cubicles and slurry storage to accommodate the rapidly expanding herd.  Most of the leased land has been reseeded in the past five years.  Improving soil pH and P&K indices is on-going.  Cathal's herd produced 450 kg milk solids per cow (4.30% fat; 3.67% protein) in 2016.
Jamie and Lorraine Kealy are first generation farmers.  Coming from a non-farming background, they purchased 12 ha of land while he worked as a building contractor.  Jamie commenced milk production on a 37 ha fertile leased farm at Slaneyquarter, Grange, Tullow, Co. Carlow in the spring of 2014.  The lease also includes cubicle accommodation and a milking parlour.  Last year he farmed an average of 91 cows stocked at 2.5 cows/ha on the milking platform.  The farm grew an average of 15 tonnes dry matter per hectare in 2016.  Jamie's herd produced 525 kg milk solids per cow (4.47% fat; 3.70% protein) on 780 kg meal that year.  This year he plans to milk just over 100 cows on the same platform.
Common features of both farms are the following:
         Breeding the right cow – both farmers believe that highly fertile, high EBI cows are most suited to grass-based milk production;
         Their focus on soil improvement through improving soil fertility;
         Their financial focus – both carefully plan cash flow on a monthly and multi-annual basis.
Commenting at the launch of this year's Summer Tour, Patrick O'Meara, AIB Agri Advisor, said, 'We are delighted to continue our support of the Irish Grassland Association Dairy Summer Tour.  This year's event is a further opportunity for farmers to learn first-hand from two progressive dairy farmers who are milking on leased land.  The fundamentals of grass utilisation and maintaining efficiencies are key for all farmers, particularly in a period of volatile milk prices.  Learning how both farmers managed to successfully work with land owners to lease land for milk production will be an important part of the day".
For further information about the event contact Maura on (087) 962 6483. The best discounted tickets rates will available for all bookings made online.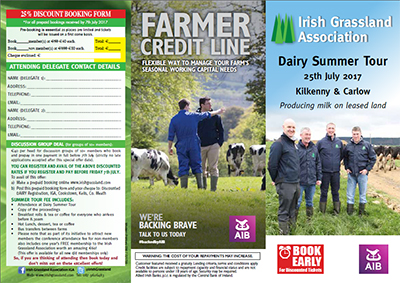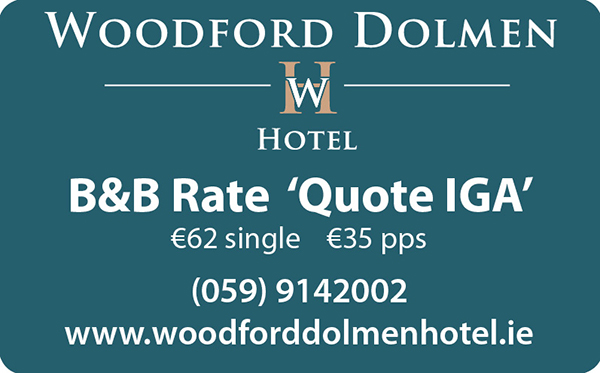 We would like to thank our sponsors