BREAKFAST GATHERING TICKETS ARE SOLD OUT
Irish Grassland Association 2015 Dairy Conference 
Pathways to Success Post-Quota
The annual Irish Grassland Association 2015 Dairy Conference sponsored by Yara will take place on Thursday 8th January at the Radisson Blu Hotel, Little Island, Cork.  This year's event has a very exciting line up of speakers covering a range of topics. The conference will focus on dealing with the last three months of quota, growing more grass, pathways into dairying and valuable lessons learned from New Zealand.
April 2015 will see the removal of quotas and the potential for the most dramatic change in the Irish dairy industry for the past 30 years.  Maximising grass growth and utilisation on farm are key components of profitable milk production systems. Getting the balance right between pre-grazing herbage mass, grass quality and grass growth impacts on the productivity and utilisation of grazed grass on farm. In the first session of the conference Dr. Brian McCarthy, Teagasc Moorepark, will outline research findings in terms of growing more grass using different perennial ryegrass cultivars and white clover. Donal Patton, Teagasc Ballyhaise, will share his experiences of using high stocking rates to utilise more grass. Michael Doran, Dairy Farmer, Co. Wexford will tell delegates how he manages his grass to grow 16 t DM/ha in a newly developed dairy enterprise.
As cow numbers have increased over the past few years many farmers may be over quota by the 1st of April next.  The first three months of 2015 will be critical to reduce potential superlevy fines.  Matt Ryan, Dairy Consultant, will explore options to manage the last few months of quota and minimise superlevy costs.  Matt will also speak about planning for the future focusing on risk management, particularly around milk price volatility. Joe Leonard, dairy farmer, Co. Meath, will outline his plans for the last three months of quota.  There will be a lot of time for discussion in this session so farmers will have plenty of opportunities to ask questions about options which may suit their system.
Dairy farming is now a very attractive option for young people interested in farming, however, they may not have the opportunity to manage their own farm.  Equally there are a number of farmers with no successors to take over the family farm but yet they do not want to sell it.  What are the options available? Austin Finn, The Land Mobility Service, will give his recommendations on how to deal with the fears, needs, wants and expectations of different people considering collaborative faming and what they will need to enter an arrangement.  Tom Curran, Teagasc, will give an overview of collaborative farming options and the structures which need to be put in place.
The final session of the day will be of great interest to all delegates. Once quotas are removed many farmers intend to increase concentrate input but perhaps they should wait until they have heard Dr. John Roche, Principal Scientist for Animal Science at DairyNZ speak.  John, a Kerry native, who is working in New Zealand, has seen a dramatic change in the New Zealand dairy industry over the past number of years.  Concentrate input has risen substantially but farmers are not necessarily making more money.  John will answer the question 'Post quota: will you make money from milk or milk from money?  Lessons from New Zealand'
On the morning of the 2015 Dairy Conference, there was an opportunity for 130 Irish Grassland Association members/ corporate members to meet at a private breakfast gathering. Prof. Patrick Wall, Associate Professor of Public Health, UCD, will address delegates at the breakfast gathering prior to the conference. Pre booking early for this was essential and this element of the day is sold out.
If you would like further information on the breakfast gathering or the conference, please contact the Irish Grassland Association on 087 9626483. You can also receive a 20% discount on your ticket and save up to €20 per ticket if you pre-pay and book online www.irishgrassland.com by Monday 29th December. Don't delay, this event sold out early last time!!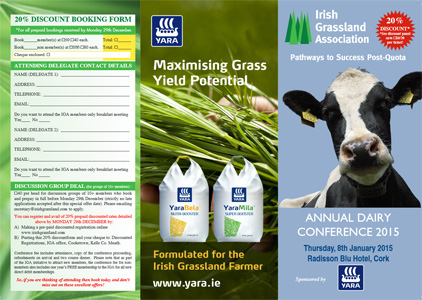 The Irish Grassland Association are delight to have Yara as sponsor for this event.